---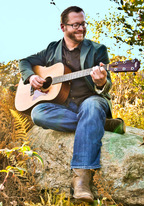 Guitar, Voice & Bass: Jared Fiske is a musician/writer from Sturbridge, Massachusetts who has been performing and teaching music professionally for 15+ years. Hailing from an artistic family, Fiske began performing in musical groups with his father, Rob Adams, and brother Seth at a young age. "It was the best possible way to learn" recalls Fiske. "You really had to sink or swim and get over the stage fright in a hurry." Fiske's song "Choice" was used in a short film for the non-profit Planetaid.org. He also co-wrote the song "On a Monday" which received the $5,000 grand prize award at ourstage.com. His formative groups include "Fiske and Herrera", who recorded and toured throughout the country from 2006-2011. Additionally, Fiske performs with his brother Seth in the alternative duo "Sight Unseen" and in the rock band "The Casters". These days, Fiske performs at bars and coffeehouses throughout Massachusetts, 200+ shows a year. When he's not playing out, Fiske teaches guitar, voice and bass and produces other artists and records in his home studio. Charlene Arsenault of Worcester Magazine describes Fiske's music as "an acoustic stream of folk-rock, led by Fiske's powerful voice." Fiske is presently recording his debut solo LP, "Turning Back the Pages".
---
---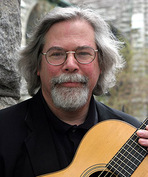 Guitar, Banjo, Mandolin & more: Glenn Weiser grew up in New Jersey, where he studied classical guitar while in high school with Maestro Paul Battat, himself a student of Andres Segovia's pupil Rodrigo Reira. At age 19, Glenn switched to fingerstyle guitar and studied with noted ragtime guitarist Eric Schoenberg. During this period he also took up harmonica, banjo, mandolin and fiddle. Lessons are available with Glenn on acoustic and electric guitar, banjo (bluegrass, clawhammer, and tenor), mandolin, harmonica, bass guitar, ukulele and fiddle. The styles he teaches include fingerpicking, electric and acoustic blues, Celtic music, bluegrass, folk, country, classic rock, jam-band and classical guitar, as well as music theory. Glenn is the author of 10 books on fingerstyle guitar and harmonica and a Rounder Records guest artist with 30 years of teaching experience. He was also the longtime harmonica columnist for the folk music journal Sing Out! Acoustic Guitar magazine (for which he has also written) has described him as a "master teacher".
---
---

Percussion:
George Dellomo
has been a fixture on the local music scene since the early 1970's as drummer in some of Worcester county's finest ensembles. George has been actively teaching area students both young and old for more than a decade. George continues to perform weekly with the likes of Babe Pino, Joe D'Angelo, We & Mrs Jones and the Rugged Road Band, to mention a few. George focuses on reading and playing the right grooves for today and yesterday music applications and student progression.
---
---
---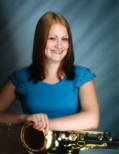 Saxophone and Clarinet:
Laura Ramsey
has been playing saxophone and clarinet for 22 years, has 14 years professional performance experience and has taught private lessons for 6 years. At Berklee College of Music she majored in professional music with an emphasis on saxophone performance and minored in music business. Laura was a member of the Contemporary Wind Orchestra and the Bob Marley touring ensemble. She was a member of the recording and performing New England band Weight of Gravity. She wrote her own parts and recorded an album with the group, which won Best New Album in 2010 in the Turtle Boy Music awards in Worcester, MA. (
weightofgravity.com
) Laura specializes in jazz theory, improvisation, classical repertoire, saxophone technique, performance techniques, and band promotion. She has developed her techniques though studies with George Garzone, Dino Govoni, Walter Beasley, Ken Sawyer, and Jeff Harrington.
---
---
---

Piano:
Paul Provost
is a well known local musician, a consummate entertainer with energy to spare. Find Paul each Sunday orchestrating the Dunnys Jam, or Fridays evenings at the Salem Cross Inn, Wednesdays at Greendales and then the weekends at wherebver he is needed most!
Skill in playing and singing highlight this show-mans talents.
Paul teaches talent on piano, and we want talent, right.
---
---

Harmonica:
Ron Sloan
has been at the art of playing the harmonica since the late 60's.
His stylistic playing ranges from 1st position tradition to blues jazz and beyond.
Ron has played and or recorded with a number of talents including Arlo Guthrie, Box Car Willie and Pinetop Perkins.
Wonderful, world traveled teacher and outstanding performer.
---
---
Ukulele & Bass:
Russell Rhoades
has 20 plus years of playing and performing experience and 10 years teaching experience. Russell specializes in teaching students to create and improvise their own bass lines and teaches most styles including slap and pop, double thumbing, chording, tapping ,playing with a flat pick and other techniques.
For Ukulele, Russell teaches both 4 and 8 string instruments. Providing a structured approach which includes learning multiple chord voicings, strumming patterns and fingerpicking techniques. Russells' goal is to get the student playing songs and providing understanding of how to use the various techniques for creating their own sound.
---
---
---
---
---